Ladies I am sure you like me want to know how to take part and win this brand new Coach Satchel bag. Who is the lucky one to walk away with this cool bag? This contest is held at
Mom Conversations
, you have till 28 July, 2010 to take part in this contest. This is challenging contest as you need to earn points for it. If this contest is a success there will be every month giveaway/contest at her blog.
If you happen to take part in contest, just mention refer by Sherry, I earn 15 points.
There are few ways to earn point for this contest.
Blog the contest and you earn 10 points
Blog review for the majour sponsors 50 points each
Add banner of contest to side bar 10 points
Add blog banner to side bar 10 points
For more detail you can click on the banner.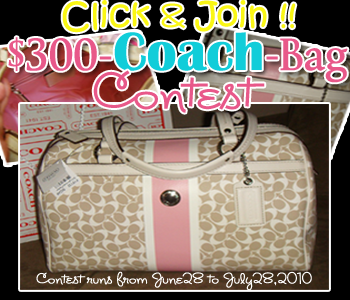 Main Sponsors: